Jon Brown gets a Shave and a Haircut (2 bits)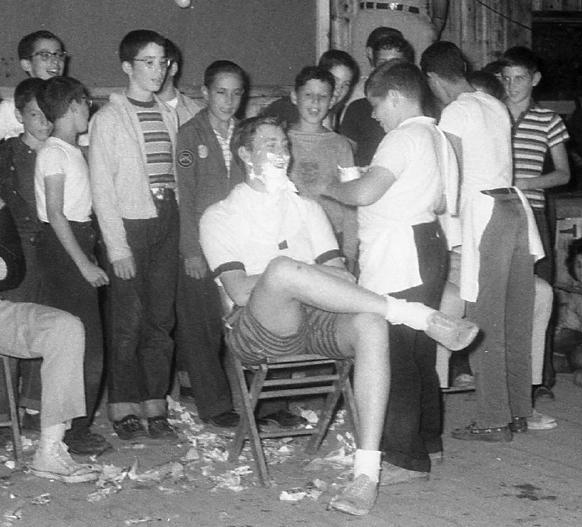 The photograph above shows a "Bust-up" skit. Jon Brown (brother of Bobby Brown) was a counselor, or more likely a trainee or Forester. The evening before Bust-up, at the traditional presentation of final skits by each camp group, Jon walked around the room, greeting people, and making sure everyone saw him wearing the full beard he had grown that summer.
When his group's turn arrived, they turned out to be presenting a Barbershop Quartet, and Jon was one of the "customers", his beard all covered with shaving cream. As the group sang traditional Barbershop Quartet favorites (like Down by the Old Mill Stream), they shaved Jon's face with a straight razor, and, lo and behold, he was left clean-shaven, to the cheers of the assembled multitude.
What had been done, of course, was simple: just before the skit, Jon had ducked out of the room, and shaved his beard off. He then covered his face with the beard-shaped shaving cream, and joined the skit, where he was "shaved" by his campers.
Can anyone fill me in on the details? What group is this, and who are the identifiable campers? Does anyone know the year? I'd appreciate hearing. Click here to send me e-mail.
Use the "Back" button on your browser to return to where you came from.
Go back to the CRC Starting page