| | |
| --- | --- |
| | Camp singalong for CRC documentary |
A camp singalong and filming opportunity was held on October 28, 2012,
in the Sturbridge Town Hall: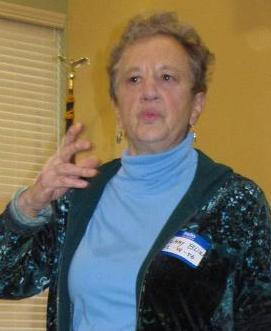 The gathering was organized by Tammy Guzik Bliss, shown to the left introducing the meeting.
Click on any of the photos for an even larger version.
In most browsers, you can then click again to enlarge further.
Use your browser's "Back" button to return here.
Tammy introduced Ditte Frederiksen McNeil (left photo below), Josh and Leah Lieberman's granddaughter, who grew up at the camp. Ditte spoke briefly. Sturbridge historian Bob Briere (middle below) spoke next, reading a letter from Simon Ottenberg, who attended the camp in its early years on Bailey's Island in Maine. Josh and Leah ran the camp there in the summers of 1929 - 1931.
Filmmaker Bruce Butcher (right below) then spoke about his progress on the documentary. He is going through footage and starting on the script - there are many sides of the camp's story that could be told. He is enjoying interviewing so many interesting alumni and learning about how CRC has influenced their lives. He anticipates that the film will be at least an hour and he is considering the possibility of a longer film.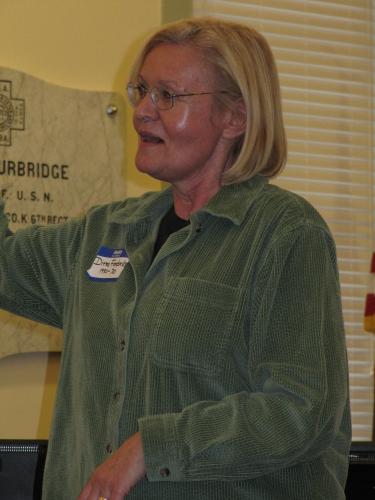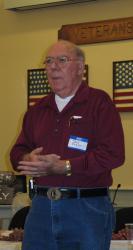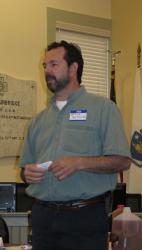 Tom Greenfield then led the group in singing old camp songs, from a songbook he had earlier prepared and circulated by e-mail (click that link to see a copy, in Word format).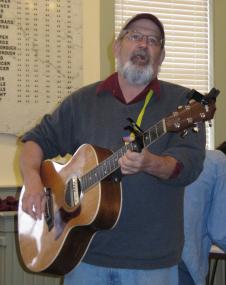 After some practice run-throughs, the group was filmed singing, possibly for footage to be used at the close of the documentary. The singing was done before lunch, instead of later in the day as originally scheduled, because the predicted arrival of Hurrican Sandy the next day caused some of the participants to have to leave earlier than expected.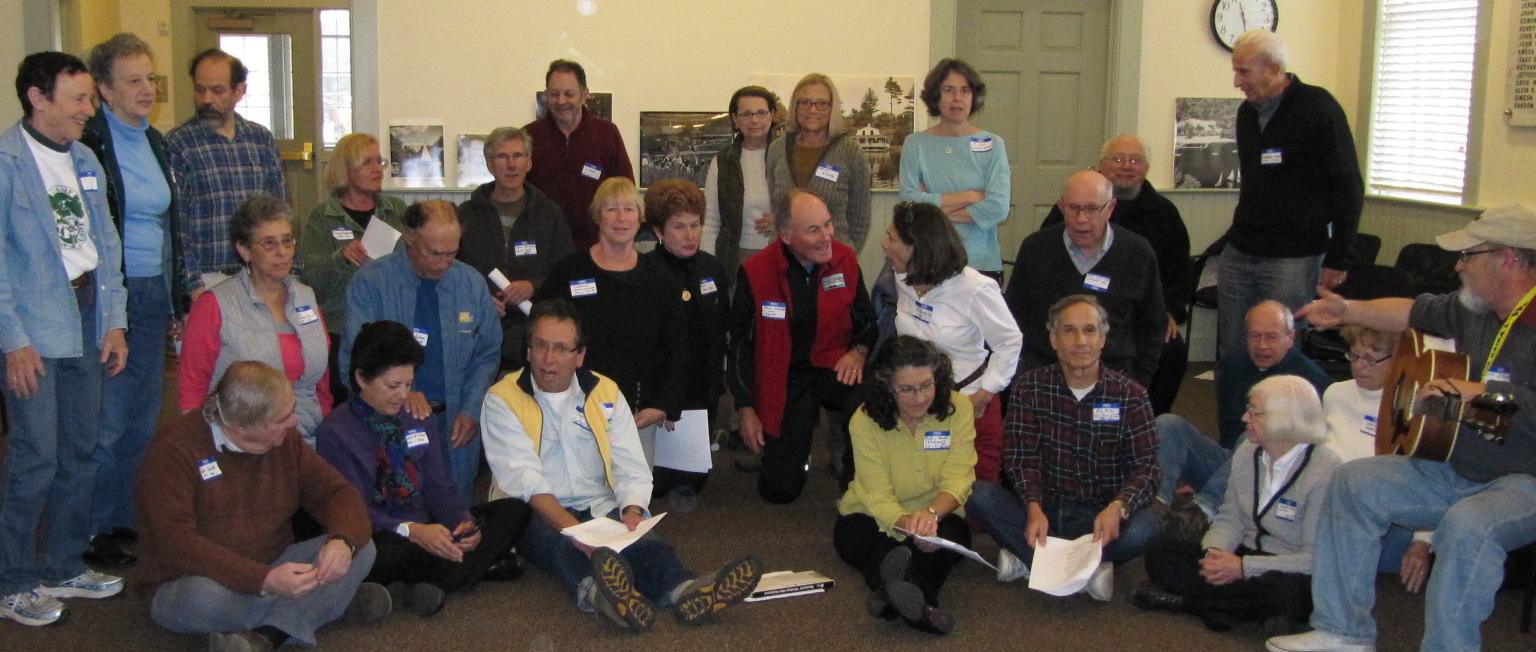 The group then retired to the Publick House for lunch, including large quantities of their famous sticky buns. Here's my table: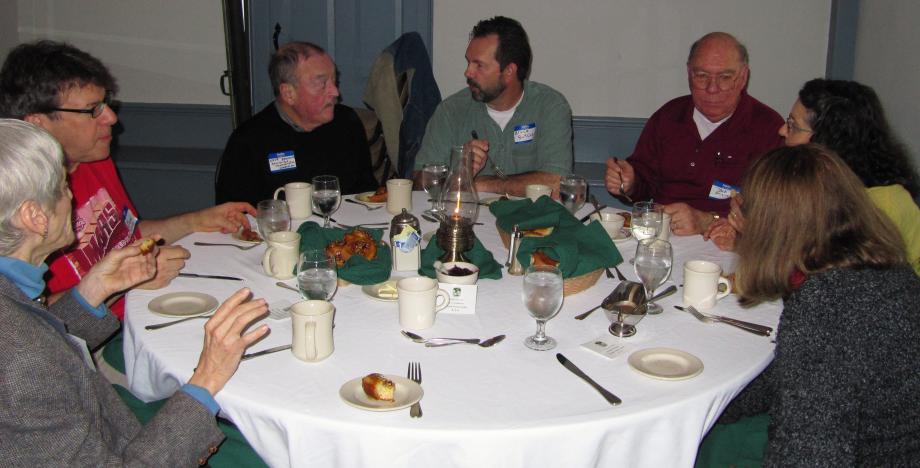 Clockwise from the left: Kate Treadwell-Hill, Dan Weissman, Dave Barnicle,
Bruce Butcher, Bob Briere, Phyllis Krakauer Jeswald, Margie Krakauer
After the lunch, a group was led on a tour of the camp grounds. I did not participate, with expected guests arriving at my house later in the day (they were evacuating their home in Chatham prior to the hurricane). I thus have no photos of the walk. But Tammy Bliss subsequently wrote, "Conservation Commissioner Chairman Dave Barnicle joined Bob Briere and about a dozen CRC alumni on the walk. Bruce Butcher stayed at Town Hall to conduct three interviews that were originally scheduled for Monday, but were done on Sunday because of the Hurricane. Dan Weissman was on the walk with his video camera. A reporter from the local paper joined us for the entire walk."
In fact, two reporters reported on the meeting, although perhaps only one went on the walk. Bob Briere has sent along copies of what they wrote. One article can be found on-line:
Camp lore from years past recounted in new film project
By Jennifer Grybowski, Turley Publications Reporter
PDF, scroll down to the bottom of page 1
Another article appeared in the Southbridge Evening News, October 30, 2012. We were given permission to post it on these pages courtesy of Stonebridge Press - click the link below for a scan of the article, with photos:
When I came here, I felt like I was home
Robinson Crusoe campers recall experiences for film
By Gus Steeves, News Staff Writer
While searching, I also found an older article on the film in the Sturbridge Villager of September 28, 2012 (click on the link to see it):
Movie to remember Camp Robinson Crusoe
'It Seems to Have Made a Huge Difference in Most of Their Lives'
By Mark Ashton, Villager Staff Writer
Below is a picture of filmmaker Bruce Butcher interviewing Ditte Frederiksen McNeil. You can click on the photo to see more photos taken on the camp grounds during the interview process.
Bruce Butcher filming Ditte Frederiksen (click for a page with additional photos)

The following sign was brought to the meeting, found on the camp grounds. It used to hang on the entrance road, near the office: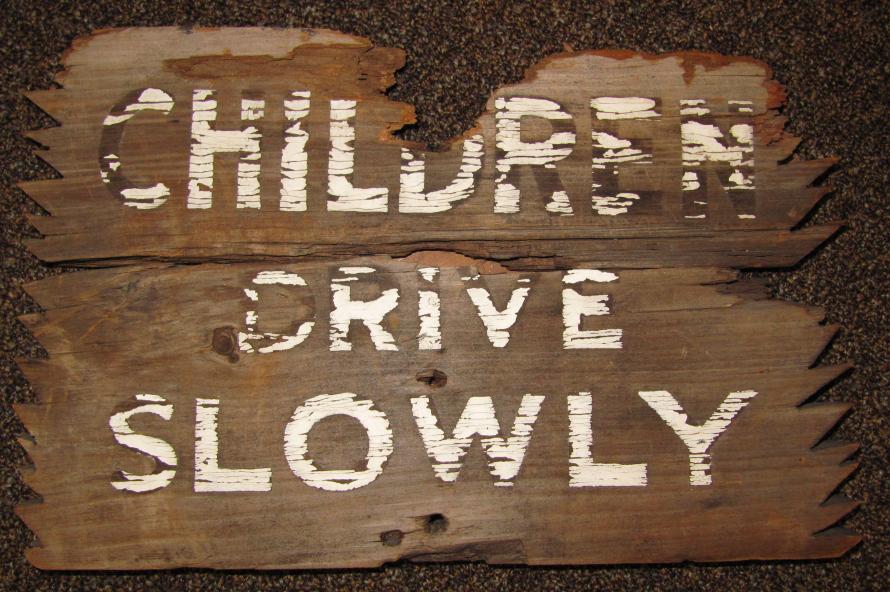 Here's a list of the attendees, about 35, circulated before the event (let me know if I've omitted anyone). This is the list as I received it from Tammy, alphabetized by current last name, with some maiden names in parentheses:
Former campers and spouses:
Tammy (Guzik) Bliss
Cathy Eising
Doris & David Finkel
Mark Gelber
Tom Greenfield
Robert Handloff
Skip & Sara Hartman
Sue Heller
Josh P. Hill
Phyllis (Krakauer) Jeswald
Dan Kirsch
Stephan Klein
Larry& Margie Krakauer
Susie (Rose) & Dan Levine
Ditte Frederiksen & Stan McNeil
Cynthia (Fruchtman) Pill
Alan Rogoff
Phil & Barbara Ross
Zelda (Jacobson) & Paul Schwartz
J. Robert Seder
Sara Miriam Simkowitz
Linda (Bland) Sonnenblick
Kate Treadwell-Hill
Dan Weissman
Ellen Weissman
Town of Sturbridge:
Dave Barnicle (Sturbridge Conservation Commission)
Bob Briere (Sturbridge Historian)
Bruce Butcher (Filmmaker)
Go back to the Documentary Home page.
Go back to the Making the CRC documentary (history) page.
This page was last updated November 12, 2012