The gong on the CRC commons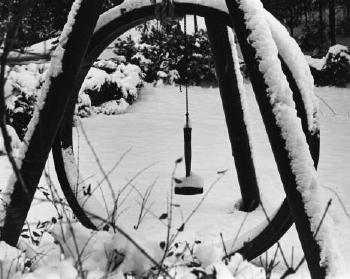 Photo by Larry Krakauer, probably in the 60's
I don't recall what prompted me to visit the camp grounds in the winter, but I took this photo of the gong on the Camp Robinson Crusoe "commons" lawn. It must have been about four feet in diameter. It was rung to signal the start and end of various periods of the day (swims, meals, and so on), and could be heard all around the main camp grounds. In fact, under good conditions, I recall it being heard way out in Primitive.
Nils and Nancy Frederiksen's daughter, Ditte Frederiksen McNeil, writes, "The large gong that you remember from the commons at camp was actually a train wheel hanging from a large metal tripod. I still have a scar on my knee from crashing my bike into it. I also got into a lot of trouble once for ringing it at the wrong time."
Since it was much too large to be an ordinary wheel from a railroad car, it probably was the steel outer part of a wheel from an old locomotive. And the original of the 8 X 10 print from which I scanned the above photo does show that it has a flange on it (although that's not so easy to see in the reduced version).
Late in my camp career, when I was a Trainee or Forrester, I felt privileged on at least one occasion to be allowed to ring it myself.
---
Go to my CRC Starting page