Nancy and Nils Frederiksen
Josh and Leah's two children, Robert and Nancy, both worked as associate directors at the camp while Josh was still director. Here's a photo of Nancy helping to erect a building in Primitive in 1942: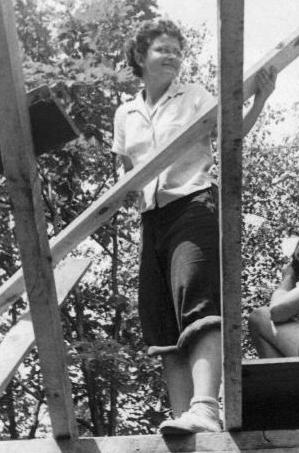 Nancy married a Danish man, Nils Frederiksen. Nils, who had an MBA, became business manager of the camp. They had three children: Ditte, Lars, and Erik. Ditte provided all the photos on this page. Here's a picture of Nils and Ditte in the camp shop: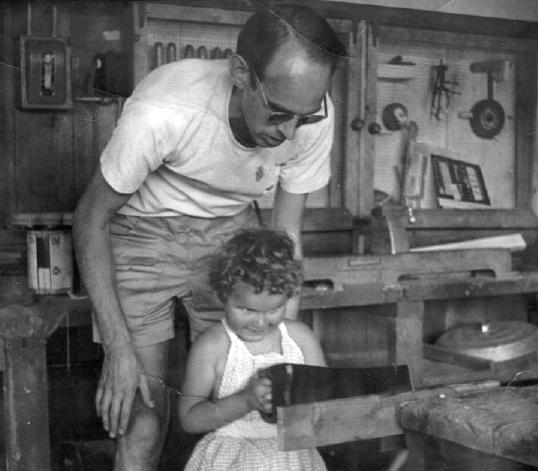 Ditte reports, "I lived in the main house year round when I was young and then later spent six months of the year in camp and six months in New York during the winter."
---
Born in Denmark, Nils spoke with a Danish accent. One of the campers in my group, Peter Klein, used to mimic his accent, answering the Primitive telephone with, "Ja, dees ist Nilss". Once when he did this, a momentarily confused voice at the other end of the line said, "No, no, DEES ist Nils!"
After Nils left the camp (around 1963 or 1964), he came to MIT to get a second Masters degree, in city planning. I was a student at MIT at the time, and Nils came to me for help because he was having trouble in his calculus course. I did a few tutoring sessions, largely helping him with a lot of unfamiliar mathematical notation. He told me the following story:
As an older student, he had been stuck in a course which was basically "Calculus for people who have forgotten their calculus" (it wasn't really called that, of course). It was taught by an earnest graduate student, who plowed enthusiastically into the subject matter. He stopped every now and then to ask if anyone in his audience of older men had any questions, but nobody did.
Well into the second week, somebody finally asked a question: "What's that on the board, up there near your right hand?"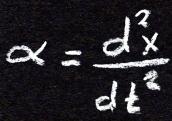 The instructor replied, "Oh, that's an alpha" (he erased the α, and re-wrote it more neatly).
The student persisted, "What's an alpha?"
Instructor: "Well, you'll recall, in this example, we defined alpha as the acceleration, the second derivative of the position X".
Student: "What I mean is, what's an alpha?"
Instructor: "What do you mean?" (Offhandedly): "It's a Greek letter, of course."
Class: "Oooooh!"
Instructor: "How many of you didn't know that alpha is a Greek letter?" (Most of the hands went up.) "How many of you basically haven't understood a thing we've been doing for the past week and a half?" (All the hands went up. The students had been too embarrassed to say anything, each thinking he was the only one who didn't understand.)
They started over.
In 1965, Nils received a Master's in City Planning from MIT. He ultimately became city planner for Westport, Connecticut, and later was campus planner and instructor at Wesleyan University in Middletown, Connecticut.
---
Use the Back button on your browser to go back to where you came from, ...
... or click here to return to "What was Camp Robinson Crusoe".
Click here to go to the CRC Starting page
This page was last updated December 17, 2012