Other camp photos
I've received some camp photos from others since posting these pages. The two just below are from the early forties.
Linda Bland Sonnenblick found the photo just below while cleaning out her attic. It's a picture of the senior boys in the summer of 1946, and Linda was able to identify a few of them. If you can fill in the missing names, let me know: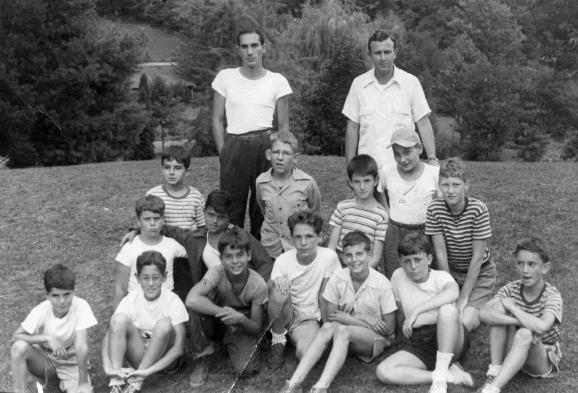 Counsellors, L-R: Joe Sanders, Jerry Bashe
Back row, L-R: Schweiber, ?, ?, Dick Melnick (became Dick Wolf), Holly Esterbrook
Middle row, L-R: ?, Bobby Driesen
Front row, L-R: Bobby Glickman, ?, Billy Silver, Andy Flaxman, ?, Jay Ball, ?
Click the photo above for a large version (1877 X 1278, 350K)
Then use your "Back" button to return here
The photo below is another one from the early 1940's, showing a "Bust-up" skit. Jim Lacey scanned the photo from his mother's scrapbook. That's Jim with the tie, under the "Chicago Limited" sign.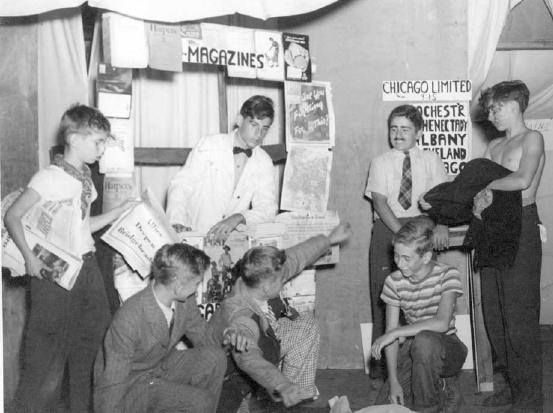 The following two photos are of Rich and Lee Snider, and were taken by their father, Mel Snider, somewhere around 1950. Lee was known as "Gerry" when he was a camper.
Another picture of Rich and Gerry can be seen on my Josh and Leah Lieberman page, where they are shown with the camp founder and director Josh Lieberman.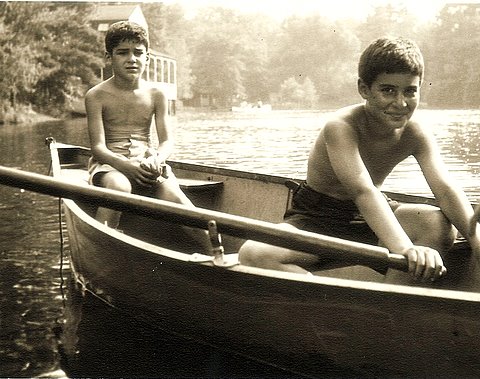 L-R: Rich and Gerry Snider, ca. 1950 (Gerry now uses the name "Lee")

Gerry Snider and Margaret (Margo) Segal, ca. 1950 (Gerry now uses the name "Lee")
Margo's older sister Liz Segal also attended the camp.
---
Use the Back button on your browser to go back to where you came from, ...
... or click here to go back to the CRC Starting page
This page was updated January 4, 2008, and most recently April 24, 2011