Rocky Road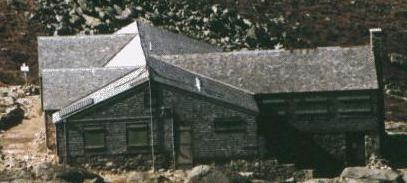 One of the great trips we took as campers was a climb of Mount Washington in New Hampshire. On the first day, we climbed the headwall of Tuckerman Ravine to the Lake of the Clouds Hut, shown in the photo above. After spending the night there, we continued on to the summit the next morning, and then on that same day, took the same Tuckerman Ravine trail back to the base.
On the way down, one of the girls (I'm afraid I forget who) seemed to be suffering rather badly under the load of her pack. This was only a two-day trip, so we were not in fact very heavily loaded, but nevertheless, she looked like she was having problems. I was doing fine, so I offered to carry her pack as well as mine for a while.
She accepted, but when I picked her pack up, it felt like it weighed about fifty pounds. "What have you got in here, rocks?", I said facetiously.
"Well, yes", she replied.
"What!", I yelled. Upon further discussion, it developed that our heroine had decided, this being a mountain and all (the second highest mountain east of the Mississippi, in fact), that rocks would make a great souvenir of the trip. And so she had been collecting them: one from the base, another from the lower trail, another from the headwall of Tuckerman Ravine. Then there was one from the Lake of the Clouds Hut, one from the summit, and so on. And these were no pebbles. These were potato sized, full scale rocks.
I presented my analysis of this choice of souvenir: "crazy!" I renewed my offer to carry the pack, but not the rocks.
The collector declined, but after struggling a while longer, she regretfully dumped most of the rocks along the trail, and continued to the bottom.
---
If you have any comments, you can click here to send me e-mail. I'd also like to hear about any typos, facts I have incorrectly remembered, and so on (OK, a few of my neurons have been heading south lately).
Click here to return to the story list
Click here to return to the starting page